Dualpure
Evolution Foam Mattresses
4 layer sandwich of Memory foam / winter side: Eco Lympha® VE Viscoelastica and Breeze / summer side: Polilatex® HT / 7 support zones / height 21-24 cm / medium-firm
Dualpure is an evolution foam mattress with 7 support zones. It is highly customisable in its firmness and type of external padding. Options range from classical kapok/cotton to 100% hypoallergenic options in polyester to our Essential fabric-only finishes. The fully removable and washable cover features handles stitched onto a side panel in breathable technical fabric. The Dualpure mattress is a Class 1 Medical Device.

guaranteed hygiene
removable and washable cover
STRUCTURE
The inner structure is made from a shaped ecological foam with inserts of differing densities. The summer side is completed by a profile in Polilatex® Ht, a high-density and very breathable foam, while the winter side features a layer in Lympha® VE Viscoelastica, a self-modelling foam that responds to the shape of the body with even greater comfort and, finally, a layer in Breeze, a fresh, well ventilated foam that also remembers the forms of the body.
SUPPORT
The 7 support zones of the Dualpure mattress are created by the central part of the structure, with its differentiated shape, completed by inserts of differing densities. The result is a system that progressively welcomes the body, offering a more comfortable support to the shoulders and calves, intermediate support to the pelvis and stronger support to the rest of the body.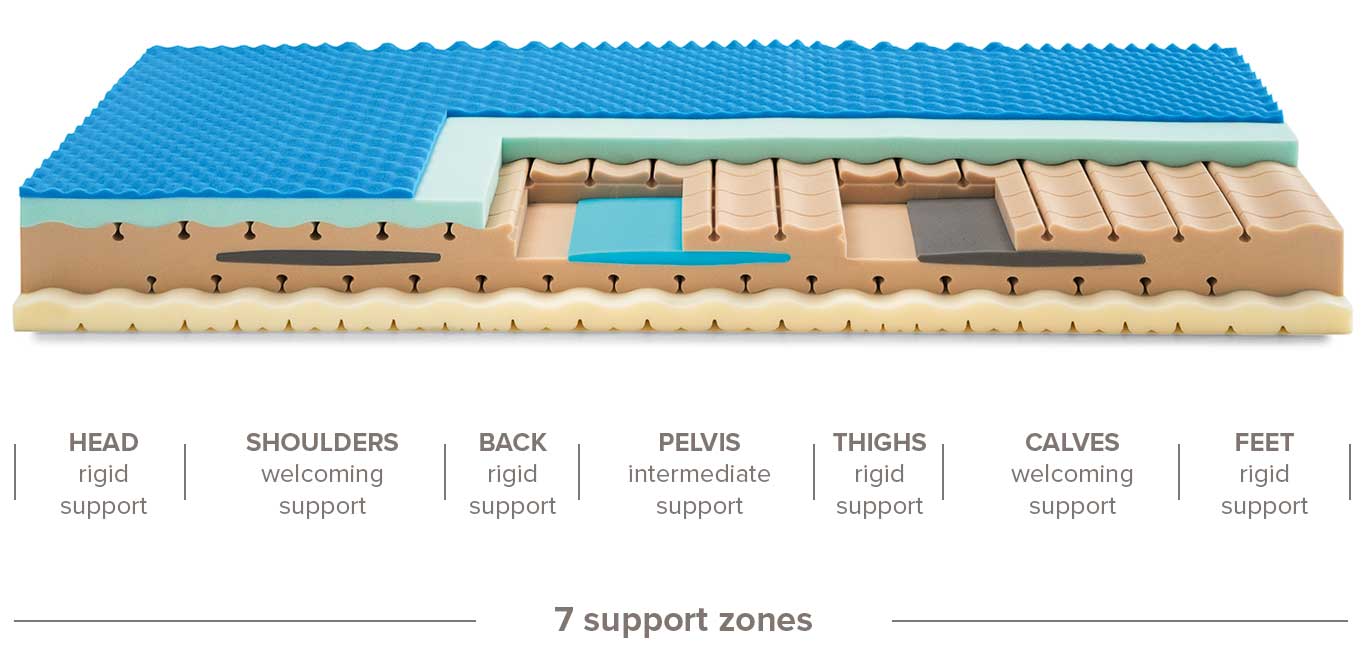 Height of 21 cm for the versions with Essential covers, and 24 cm for versions with Soft Performance padded covers.

standard dimensions
twin
80 x 190 cm
80 x 195 cm
80 x 200 cm
85 x 190 cm
85 x 195 cm
85 x 200 cm
90 x 190 cm
90 x 195 cm
90 x 200 cm
full size
100 x 190 cm
100 x 195 cm
100 x 200 cm
120 x 190 cm
120 x 195 cm
120 x 200 cm
140 x 190 cm
140 x 195 cm
140 x 200 cm
queen size
160 x 190 cm
160 x 195 cm
160 x 200 cm
165 x 190 cm
165 x 195 cm
165 x 200 cm
170 x 190 cm
170 x 195 cm
170 x 200 cm
queen size XL
180 x 190 cm
180 x 195 cm
180 x 200 cm

Natura Kapok
Vegetable silk padding. This extremely light and elastic fibre is made from ultra-thin filaments of cellulose full of air pockets, covered by a layer of natural wax, obtained from the fruits of the tropical Kapok tree. With the ability to trap up to 80% of air, it is an excellent insulator and inhospitable to bacteria thanks its rapid drying property. The external fabric is treated with antibacterial products.
Easy Clean
100% hypoallergenic padding. Breathable and elastic with optimum hypoallergenic and antibacterial characteristics, this product is realised in hollow core thermal polyester fibres that ensure the flow of air and assist with the evaporation of humidity generated by the body during rest. It is supplied by Dacron®, a European leader in the production of padding fibres. The external fabric is treated with antibacterial products to protect against dust mites.
Tex
Unpadded cover for memory foam mattresses in two tone fabric with micro-padding.
Air
Unpadded cover for memory foam mattresses in three-dimensional patterned fabric that ensures the optimum circulation of air.
Fresh
Unpadded cover for memory foam mattresses in a special fabric that is fresh to the touch.