Adapto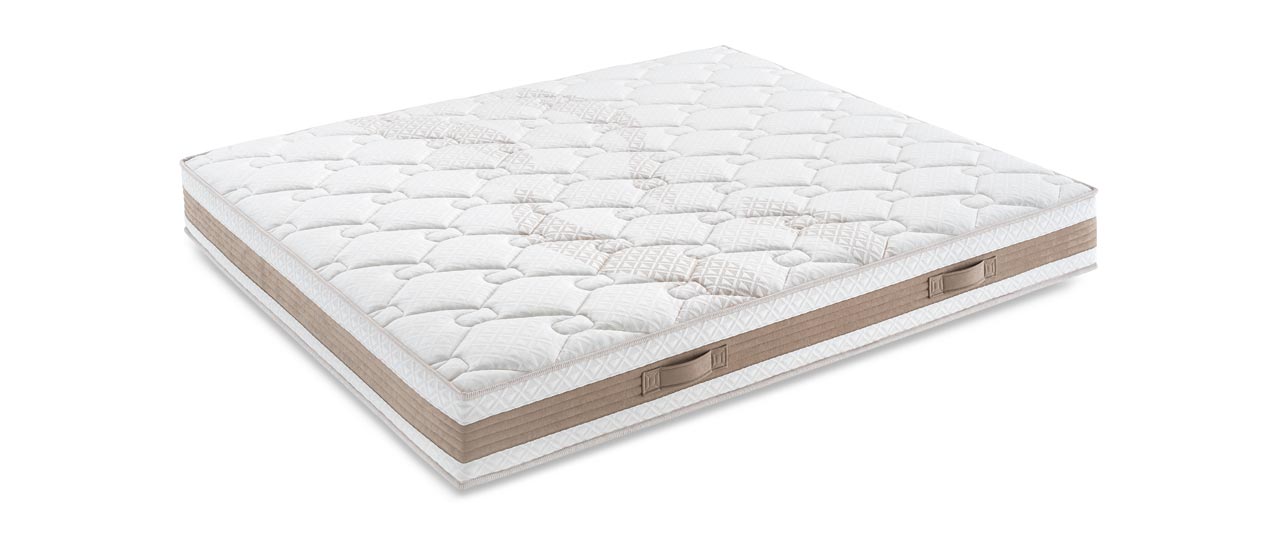 independent pocket springs
800 pocket springs / spring diameter 6 cm / shaped Evocell foam layer / balanced spring structure / height 23 cm / medium-rigid
Adapto is a pocket spring mattress offering an ideal balance between performance and cost. The spring structure is completed by a massaging layer in Evocell, one of the latest generation of expanded foams resistant to heat and humidity. The winter side is padded with Merino wool, an optimum insulator and temperature regulator, while the contact surface on the summer side is in fresh cotton terry cloth. Finished with an elegant tobacco coloured quilted cover, this mattress can be combined with a topper from the same collection.

800
independent pocket springs
for queen size mattresses
STRUCTURE
The queen size mattress features 800 independent springs that offer a balanced rigidity, thanks to the combination of the shaped Evocell profile featuring channels that define 5 support zones for the different parts of the body.
EVOCELL PROFILE
The Evocell profile is a panel of the latest generation of expanded polyurethane foam with an elevated level of porosity. It is highly breathable and resistant to heat and humidity, the principal causes of the aging and loss of resilience typical of common polyurethane foams.
SUPPORT
This model features a balanced spring structure that offers homogenous support for the entire body, rendered even more comfortable by a layer in shaped Evocell, a highly breathable expanded polyurethane foam.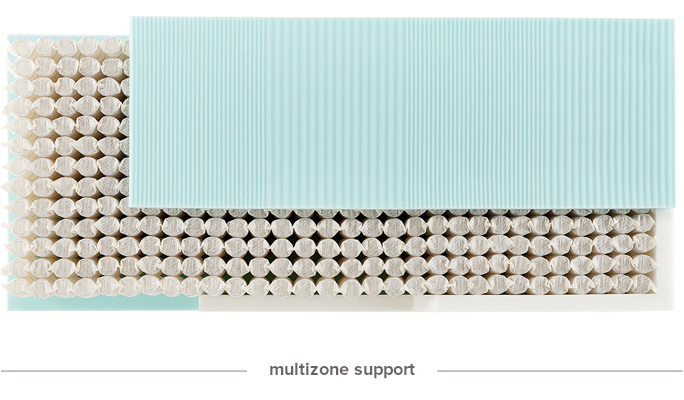 H 23 cm (approx.)

standard dimensions
twin
80 x 190 cm
80 x 195 cm
80 x 200 cm
85 x 190 cm
85 x 195 cm
85 x 200 cm
90 x 190 cm
90 x 195 cm
90 x 200 cm
full size
100 x 190 cm
100 x 195 cm
100 x 200 cm
120 x 190 cm
120 x 195 cm
120 x 200 cm
140 x 190 cm
140 x 195 cm
140 x 200 cm
queen size
160 x 190 cm
160 x 195 cm
160 x 200 cm
165 x 190 cm
165 x 195 cm
165 x 200 cm
170 x 190 cm
170 x 195 cm
170 x 200 cm
queen size XL
180 x 190 cm
180 x 195 cm
180 x 200 cm

Naturtech Merino Wool
Merino wool and cotton padding, the first for the winter side, the other for the summer side. Both are coupled and heat-welded to high-resilience polyester techno-fibres, particularly elastic and breathable, to ensure optimum temperature control throughout the seasons. he external fabric is protected against dust mites thanks to an antibacterial treatment.