Biostyle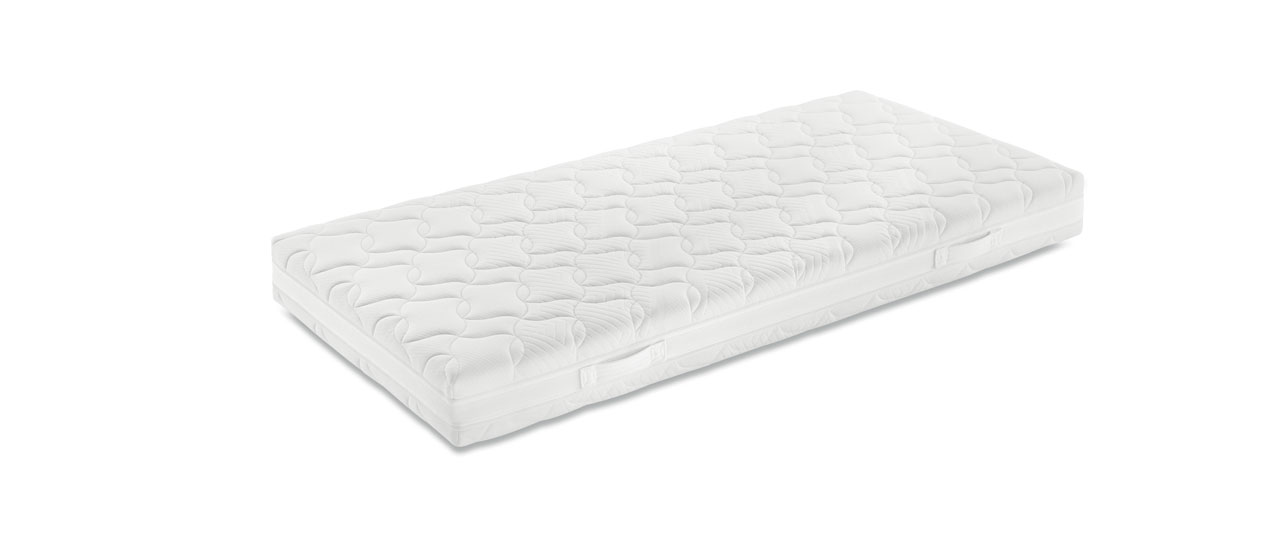 Latex Foam Mattresses
Latex foam mattress height 16 cm / 7 support zones / height 19 cm
Biostyle is a semi-rigid latex foam mattress. Thanks to its compact structure and the particular processes involved in its manufacturing, it offers rigid support, differentiated in 7 support zones. Biostyle is completed by a hypoallergenic and breathable thermal polyester fibre cover, on both sides, and a perimeter band of 3-space breathable fabric, removable on 4 sides to permit the ventilation of the internal structure by opening the mattress into two halves.

guaranteed hygiene
removable and washable cover
STRUCTURE
The structure of Biostyle is a compact, 16 cm thick and particular dense pad that offers comfortable support. It is traversed by horizontal ventilation channels that serve to direct excess heat and humidity toward the exterior of the mattress through a network of overlapping vertical channels.
SUPPORT
The 7 diverse support zones ensure a calibrated support of the different parts of the body, responding to the different pressures they exert. The perforation of the latex foam pad with channels of different diameters ensures this differentiated support, the secret to a quality night's sleep for any latex foam mattress.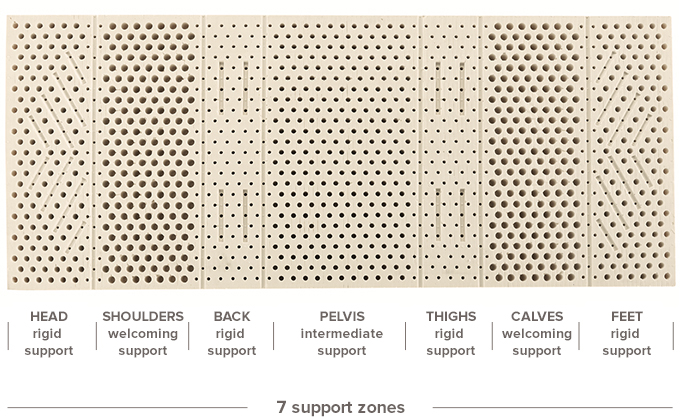 H 19 cm (approx.)

standard dimensions
twin
80 x 190 cm
80 x 195 cm
80 x 200 cm
85 x 190 cm
85 x 195 cm
85 x 200 cm
90 x 190 cm
90 x 195 cm
90 x 200 cm
full size
100 x 190 cm
100 x 195 cm
100 x 200 cm
120 x 190 cm
120 x 195 cm
120 x 200 cm
140 x 190 cm
140 x 195 cm
140 x 200 cm
queen size
160 x 190 cm
160 x 195 cm
160 x 200 cm
165 x 190 cm
165 x 195 cm
165 x 200 cm
170 x 190 cm
170 x 195 cm
170 x 200 cm
queen size XL
180 x 190 cm
180 x 195 cm
180 x 200 cm

Hypoallergenic
The Sanitized® hypoallergenic thermal polyester fibre cover is particularly breathable to heighten internal air flow and evaporate the humidity released by the body during sleep. It is ideal for those with an allergy to mites.