Absolute
micro-pocket springs
1,600 micro-pocket springs / spring diameter 4 cm / moulded layer in Lympha® foam / 7 support zones / height 24 cm
Absolute is a welcoming mattress, in its most rigid and medium support version. All models feature a removable and washable cover. Absolute is structured in 7 different supports zones to best respond to the pressures exerted by body weight. To increase the comfort and durability of the mattress, the micro-pocket spring structure is completed, both above and below, by a layer of elastic Lympha® foam, resistant to deformation and assembled to offer a massaging effect, to ensure the circulation of air and the evaporation of excess humidity.

1,600
micro-pocket springs
for queen size mattresses
guaranteed hygiene
removable and washable cover
STRUCTURE
Each fully independent micro-pocket spring is inserted in an individual pocket to best respond to the movements of the body at rest. This makes the balanced structure of Absolute even more resistant and durable.
MASSAGING PROFILE
LYMPHA®
The structure of micro-pocket springs is enclosed by a profile in Lympha® foam. This plant-based microcellular polyurethane foam is arranged in strips and profiles with a dense overlap of differentiated channels that provide a massaging effect to the whole body and ensure the rapid evaporation of excess humidity. Its resistance to deformation is a further guarantee of durability.
SUPPORT
Each micro-pocket spring is placed in its own protective cover, aligned by typology to create 7 diverse support zones that welcome each part of the body. The pockets are fixed to create a single cohesive structure.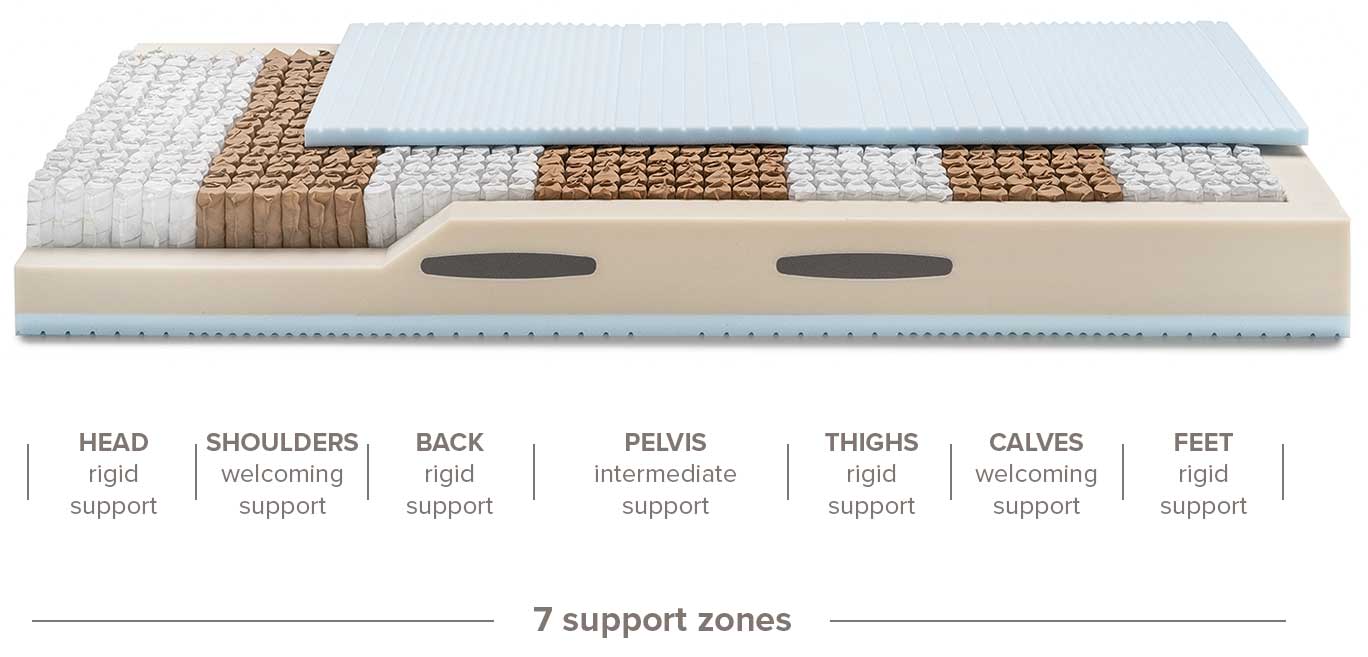 H 24 cm (approx.)

standard dimensions
twin
80 x 190 cm
80 x 195 cm
80 x 200 cm
85 x 190 cm
85 x 195 cm
85 x 200 cm
90 x 190 cm
90 x 195 cm
90 x 200 cm
full size
100 x 190 cm
100 x 195 cm
100 x 200 cm
120 x 190 cm
120 x 195 cm
120 x 200 cm
140 x 190 cm
140 x 195 cm
140 x 200 cm
queen size
160 x 190 cm
160 x 195 cm
160 x 200 cm
165 x 190 cm
165 x 195 cm
165 x 200 cm
170 x 190 cm
170 x 195 cm
170 x 200 cm
queen size XL
180 x 190 cm
180 x 195 cm
180 x 200 cm

Duo Therm
Cotton and wool padding: fresh cotton wool and warm Refino wool that absorbs humidity. In addition, hollow core high-resilience techno-fibres ensure the most rapid and complete evaporation of excess humidity to maintain a balanced body temperature during sleep. The Sanitized® cover offers protection against dust mites.
Easy Clean
100% hypoallergenic padding. Breathable and elastic with optimum hypoallergenic and antibacterial characteristics, this product is realised in hollow core thermal polyester fibres that ensure the flow of air and assist with the evaporation of humidity generated by the body during rest. It is supplied by Dacron®, a European leader in the production of padding fibres. The Sanitized® cover offers protection against dust mites.
Kapok
Vegetable silk padding. This extremely light and elastic fibre is made from ultra-thin filaments of cellulose full of air pockets, covered by a layer of natural wax, obtained from the fruits of the tropical Kapok tree. With the ability to trap up to 80% of air, it is an excellent insulator and inhospitable to bacteria thanks its rapid drying property. The external fabric is Sanitized®.
Memory Celliant®
Double comfort padding: winter side in visco elastic memory foam that actively adapts to the body and ensures a balanced distribution of different weights, and summer side in Celliant® fibre, an innovative, tested and certified technology that helps improve rest and circulation and brings more oxygen to the body's cells. It features a natural antimicrobial treatment of Aloe Vera based oils.
Natural
Cotton and wool padding, also used for the cover, in this case mixed with polyester. This combination creates a perfect microclimate: cotton wool for the summer, Refino wool for the winter, in both cases aided by high-resilience techno-fibres that offer improved control of body temperature by eliminating excess humidity. The Sanitized® cover offers protection against mites and is machine washable at 40°C.