Supreme
micro-pocket springs
3,000 micro-pocket springs / spring diameter 2 cm / shaped layer in Eco Lympha® foam / 7 support zones / height 24 cm / medium-firm
Supreme is a mattress whose removable cover features a quilted microfibre band, available in Ice White or Rain Grey. The queen size version features 3,000 micro-pocket springs. This mattress is also available in twin, full and XL versions. Every Supreme mattress features 7 different zones that ensure the proper support to the weight of each part of the body. A layer of Eco Lympha® foam with specially designed channels produces a massaging effect during rest. This model is completed by a selection of padded covers and a topper, for an even more comfortable mattress.

3,000
micro-pocket springs
for queen size mattresses
guaranteed hygiene
removable and washable cover
STRUCTURE
Each independent micro-pocket spring is individually wrapped to facilitate the movements of a body at rest and produce a relaxing and supporting sensation. The mattress structure is compact, well ventilated and rendered even more elastic by a profile in Lympha® foam.
MASSAGING PROFILE
LYMPHA®
The structure of micro-pocket springs is enclosed by a profile in Lympha® foam. This plant-based microcellular polyurethane foam is arranged in strips and profiles with a dense overlap of differentiated channels that provide a massaging effect to the whole body and ensure the rapid evaporation of excess humidity. Its resistance to deformation is a further guarantee of durability.
SUPPORT
Responding to the pressures exerted by the diverse parts of the body on the mattress, 7 areas of differing rigidities maintain the natural extension of the spinal column and ensure a restful night's sleep.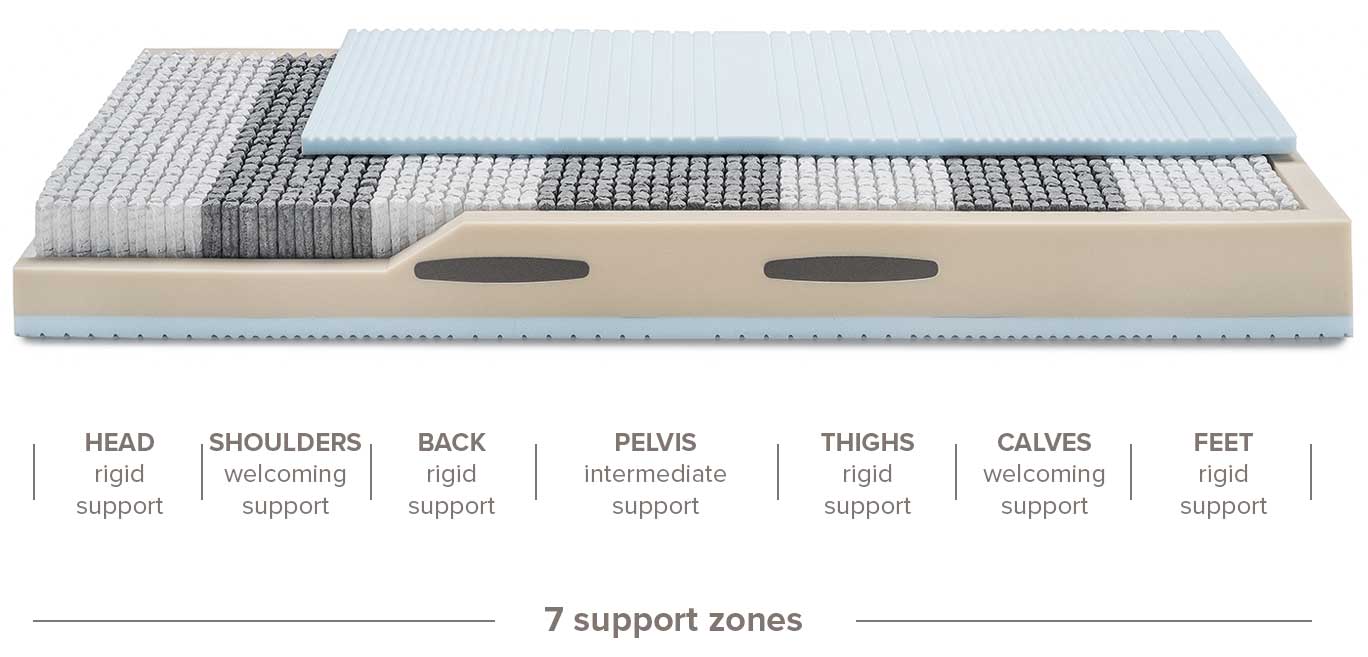 H 24 cm (approx.)

standard dimensions
twin
80 x 190 cm
80 x 195 cm
80 x 200 cm
85 x 190 cm
85 x 195 cm
85 x 200 cm
90 x 190 cm
90 x 195 cm
90 x 200 cm
full size
100 x 190 cm
100 x 195 cm
100 x 200 cm
120 x 190 cm
120 x 195 cm
120 x 200 cm
140 x 190 cm
140 x 195 cm
140 x 200 cm
queen size
160 x 190 cm
160 x 195 cm
160 x 200 cm
165 x 190 cm
165 x 195 cm
165 x 200 cm
170 x 190 cm
170 x 195 cm
170 x 200 cm
queen size XL
180 x 190 cm
180 x 195 cm
180 x 200 cm

Natura Kapok
Vegetable silk padding. This extremely light and elastic fibre is made from ultra-thin filaments of cellulose full of air pockets, covered by a layer of natural wax, obtained from the fruits of the tropical Kapok tree. With the ability to trap up to 80% of air, it is an excellent insulator and inhospitable to bacteria thanks its rapid drying property. The external fabric is treated with antibacterial products.
Easy Clean
100% hypoallergenic padding. Breathable and elastic with optimum hypoallergenic and antibacterial characteristics, this product is realised in hollow core thermal polyester fibres that ensure the flow of air and assist with the evaporation of humidity generated by the body during rest. It is supplied by Dacron®, a European leader in the production of padding fibres. The external fabric is treated with antibacterial products to protect against dust mites.
"Memory Tech" Padding
High-tech padding and double the comfort. A winter side in visco elastic memory foam adapts and distributes body weight in a balanced manner. The summer side is made from innovative InfraCycle™, a fibre that exploits infrared technology to evenly distribute body heat to favour the circulation of blood and maximise comfort.