Feeling 5 Plus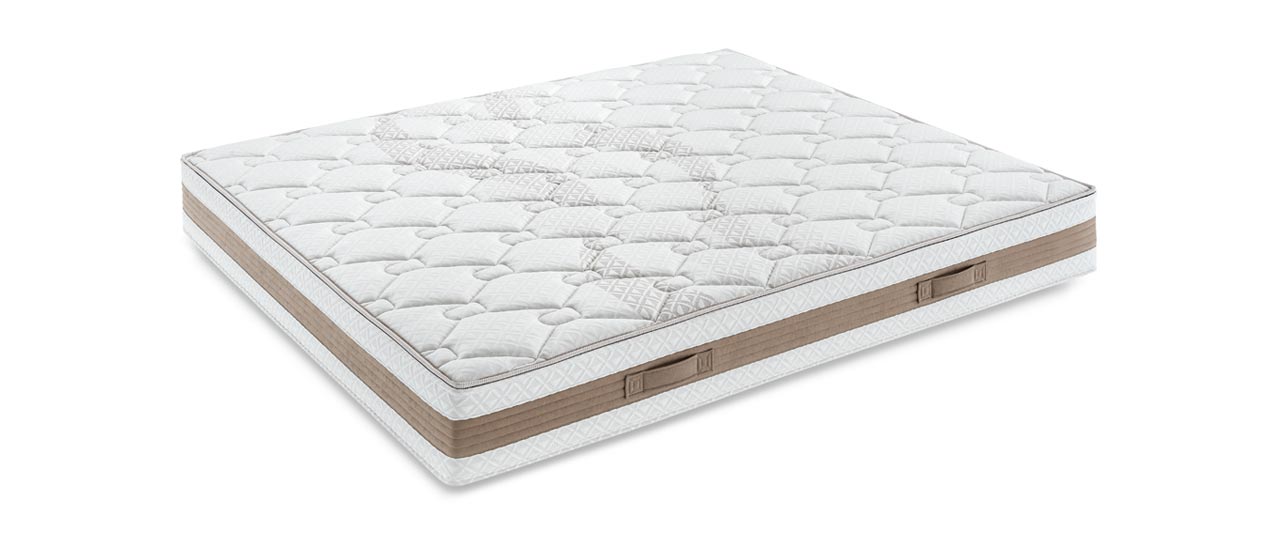 pocket springs and memory foam
800 pocket springs / spring diameter 6 cm / removable cover with double zipper / winter side: layer in Visco-Memory foam / summer side: shaped layer in Evocell with 5 support zones / balanced spring structure / height 24 cm / medium-firm
Feeling 5 Plus unites the characteristics of a pocket spring mattress with the comfort of a foam and memory foam. The structure of this mattress is completed by a summer side in Evocell, one of the latest generation of expanded foams; and a winter side with a massaging layer in Visco-Memory, also known as memory foam. The removable and washable cover features a quilted tobacco-coloured side band. Feeling 5 Plus is even more comfortable when combined with a topper. Feeling 5 Plus is a Class 1 Medical Device.

800
micro-pocket springs
for queen size mattresses
guaranteed hygiene
removable and washable cover
STRUCTURE
The spring structure is comprised of independent springs that respond to the positions of the body, supporting and welcoming it without transferring movement to the interior of the mattress. This increases comfort, above all in the queen size version. Feeling 5 Plus features a balanced structure.
EVOCELL PROFILE
The Evocell profile is a panel of the latest generation of expanded polyurethane foam with an elevated level of porosity. It is highly breathable and resistant to heat and humidity, the principal causes of the aging and loss of resilience typical of common polyurethane foams.
VISCO MEMORY PROFILE
The Visco Memory Profile is a 30 mm thick expanded foam sandwich panel, with a contact side in Visco Memory Foam: it offers a pleasurable sensation and just the right amount of support for an ideal rest.
SUPPORT
Even in the presence of a balanced spring structure, the shaped Evocell profile with 5 support zones that completes the structure on the summer side allows the spinal column to extend naturally, with targeted supports that follow its curves. This helps the entire skeletal and muscle structure to relax to guarantee a restful night's sleep.


H 24 cm (approx.)

standard dimensions
twin
80 x 190 cm
80 x 195 cm
80 x 200 cm
85 x 190 cm
85 x 195 cm
85 x 200 cm
90 x 190 cm
90 x 195 cm
90 x 200 cm
full size
100 x 190 cm
100 x 195 cm
100 x 200 cm
120 x 190 cm
120 x 195 cm
120 x 200 cm
140 x 190 cm
140 x 195 cm
140 x 200 cm
queen size
160 x 190 cm
160 x 195 cm
160 x 200 cm
170 x 190 cm
170 x 195 cm
170 x 200 cm
queen size XL
180 x 190 cm
180 x 195 cm
180 x 200 cm

Naturtech Merino Wool
Merino wool and cotton padding, the first for the winter side, the other for the summer side. Both are coupled and heat-welded to high-resilience polyester techno-fibres, particularly elastic and breathable, to ensure optimum temperature control throughout the seasons. he external fabric is protected against dust mites thanks to an antibacterial treatment.